Lessons from Abroad
2018-10-24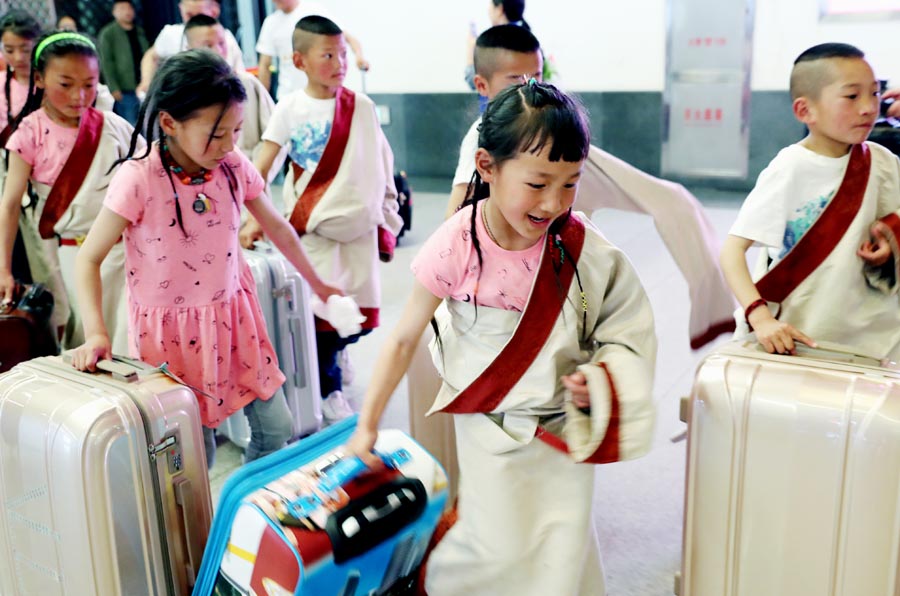 A group of Tibetan children from three primary schools in Qinghai province arrive in Suzhou,
Jiangsu province on April 19 for a weeklong study tour, experiencing the urban life and
interacting with local students. [China Daily]
The number of foreign study tours by Chinese students is likely to hit 1 million this year, Yang Feiyue reports. Li Jiaruo had an unforgettable and fruitful trip to Canada in July 2016. The now 19-year-old opted for a two-week summer program at a physics theory research institute in Toronto, where she learned about dark matter, visited quantum labs and had interesting interactions with her peers from all around the world. There was also a trip to Niagara Falls. "I signed up because I wanted to improve my spoken English and adapt to an English-speaking academic environment before college," says Li. She was accepted by Cornell in 2017, and has just returned from the United States to spend some time with her parents in Hunan. "I do not know how much the (Canada) experience worked in my college admission, but it was fun and enabled me to make lots of friends," she says, speaking about her 2016 study tour to Canada. Li's parents were very supportive of the pre-college programs and covered her flights and tuition. Now, with money at hand and increasing focus on an all-round education and a desire to have their children see the world, parents are willing to send their children on study trips both at home and abroad. The number of foreign study tours by Chinese students is likely to hit 1 million this year, involving 30 billion yuan ($4.5 billion) in expenditure, China's biggest online travel agency, Ctrip, reports. And domestic study tours are expected to hit 9 million. The travel agency's study tour business has grown impressively in recent years. Those choosing tours abroad grew by 50 percent during the 2017 summer and the 2018 winter vacations year-on-year. The tours on average cost about 29,000 yuan each. Those opting for domestic study tours grew by 120 percent, with costs pegged at about 4,200 yuan. The United Kingdom, the US, Australia, Singapore, New Zealand, Canada, Japan, Thailand, Indonesia and France are among the most popular destinations among Ctrip users. Domestically, Ningxia, Inner Mongolia, Guizhou, Qinghai, Shanghai, Beijing, Yunnan, Sichuan province's Chengdu, Guangdong province's Guangzhou and Shenzhen are the most appealing in China. Also, study travelers are getting younger. The average age of travelers who took their first study tours overseas stood at 12.1 years old, while the age for first domestic study tourists was 8.8 years old. More than 70 percent of those who go on overseas study trips enjoy an annual family income above 300,000 yuan, while those in the 150,000-300,000 yuan range, mostly choose domestic trips, according to Ctrip. Foreign universities' preference for students with academic experiences outside the classroom has also spurred many parents to sign their children up for study tours. Shanghai, Beijing, Guangdong's Guangzhou and Sichuan's Chengdu are top sources of study travelers, while second-tier cities, especially those in the Yangtze River Delta, northeastern Heilongjiang, Jilin and Liaoning provinces, have seen a rapid growth in the number of study travelers. About 80 percent of parents want their children to go on the trip without their presence, for budgetary reasons and for their children to learn to be independent, says Ctrip. International classes, camping, university visits, outdoor challenges, culture and charity experiences are most popular elements on these tours. Hiking through the Tengger Desert in North China's Inner Mongolia autonomous region and taking care of wild animals in Australia have both become hits with those who booked through Ctrip. The major domestic online travel agency Tuniu has also seen a surge in bookings of study trips abroad for July and August. Most of the customers are teenagers, accounting for 74 percent of all bookings, with the majority favoring the US, the UK and Australia, Tuniu reports. For the youngsters, experiences in prestigious universities, summer camps and cultural exchanges are among the most sought after activities. For the parents, safety, children's interests, the ratio of travel and learning, as well as quality of the academic institute and faculty are key factors. About half are open to tours which cost around 20,000-30,000 yuan, and 33 percent of them choose those priced under 20,000 yuan, according to Tuniu. As for other offerings, Wang Shubo, vice-president of Tuniu, says: "In addition to regular study tours, more custom-made tours are now getting parents' attention." These products feature optional scenic spots and flexible trip arrangements to ensure freedom and privacy for family travelers. Now, custom-made study tours to the US on Tuniu's website are popular, says Wang. According to a study by the New Oriental Education and Technology Group, nearly a third of those who plan to study abroad have done study tours beforehand. With easier visa policies and increasingly diverse study tours, experts project that the Chinese study tour market for overseas destinations alone is likely to be worth 43.5 billion yuan by 2020.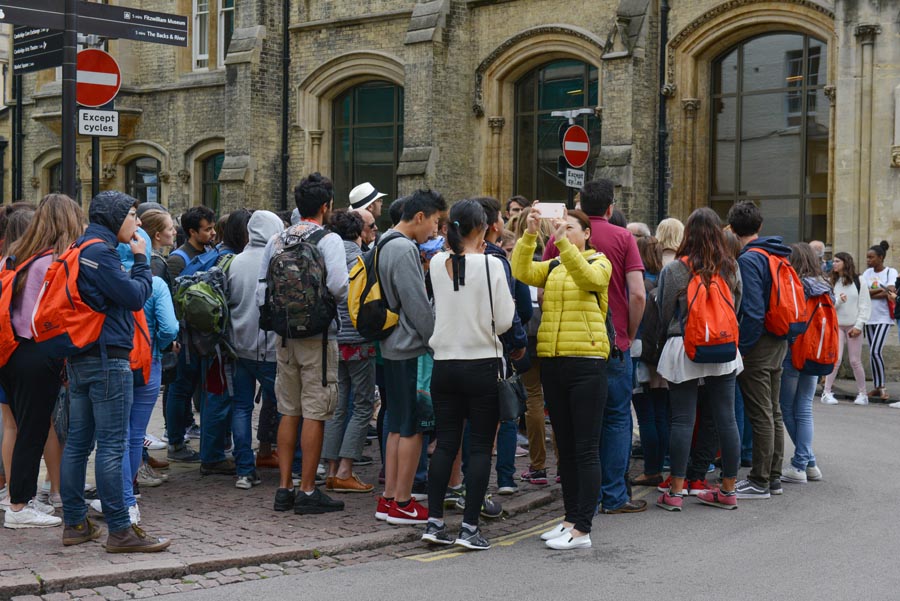 Students from China as well as other countries pay a visit to the University of Cambridge last August.[China Daily / Yin Yizhi]
(Source: China Daily)