WECHAT MINI PROGRAM - ALL YOU NEED TO KNOW
2020-03-24
Before we talk about Mini Programs, it's important to know exactly what they are and what they do. Tencent, the Chinese tech giant that operates WeChat (and also QQ), added mini programs to their applications in 2017. These mini programs essentially operate like a separate mobile app, except that they function within another larger app. WeChat started out as a very basic messaging app and has now become a full ecosystem with more than 1 billion monthly users. This article, however, is not about the specificities of WeChat itself, so if you are still learning the ropes of WeChat, we recommend starting with this article here first.
So let's get onto the Mini Programs, which were launched by Tencent back in January 2017.
What Is a Mini Program?
Mini Programs are small applications that function within WeChat. When they were first launched they were technically more basic than a standard native APP. However, now in 2018, since Tencent opened more APIs for developers, they are now quite similar to a native APP in terms of their complexity.
Why Mini Program?
When you use Mini Programs, you'll see that they function like normal mobile phone apps. Tencent refers to them as "Mini Programs" due to a dispute with Apple over the use of the term "app", however, the term "Mini App" is sometimes used when talking about these programs.
How Popular are WeChat Mini Programs?
With more than 1 million mini programs on the market covering 200 categories and more than 200 million daily users, mini programs have become the way to do almost everything in China. From ordering food to find love, mini programs cover a wide range of services and needs of hundreds of millions of WeChat users every day.
By the beginning of 2019 a survey made by Tencent based on data gathered from 8000 WeChat users offered some interesting insights about the bright future of Mini Programs.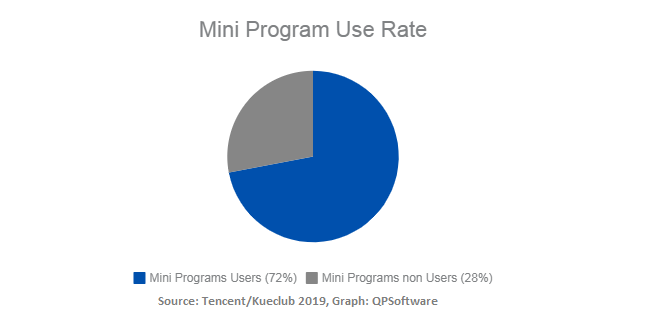 Over the 8,000 WeChat surveyed users, 72% had used WeChat mini-programs and 34% of them declared to be frequent users. The report states that many users are likely to pop in and out of mini programs so designers should focus on increase the user retention.
Most Popular Mini Programs by category
The most downloaded mini programs by category are the mini games (42%) followed by lifestyle mini apps (39%) Blog/News (28%) and E-commerce mini programs. As we can see mini programs are designed to serve a wide range of services and industries just as the traditional apps.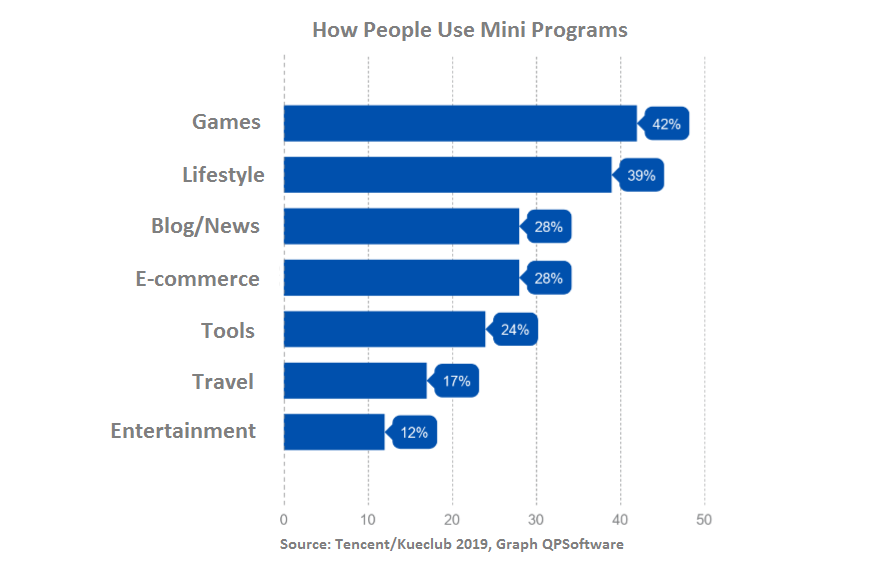 Examples of WeChat Mini Programs
There are thousands of companies using WeChat Mini Programs to promote their services. You might think that mini programs are only used by Chinese companies, think twice, in summer 2018 Google launched their first mini program called 猜画小歌 or Guess My Sketch, a mini game where players have to cooperate with Google's AI to beat other players. Other direct competitors of WeChat are also using mini programs as Alibaba that has a mini program version of AliPay.
WeChat Minigames
WeChat Mini Games are Mini Programs designed for gaming, as they are already integrated in WeChat they benefit of a smooth loading speed and have all the social features. WeChat Mini Games aim users to compete with their friends trying to beat their scores on leaderboards. Once you have finished your game you will have an automatic notification to see who (among your friends) you have beaten. This social feature on mini games helps to increase the average time on the program and the user retention.
One of the most popular Mini Games in 2018 was Jump Jump (跳一跳). This mini game challenges the player to jump over different boxes by pressing the screen without falling out. This mini app reached 100 million users in only two weeks.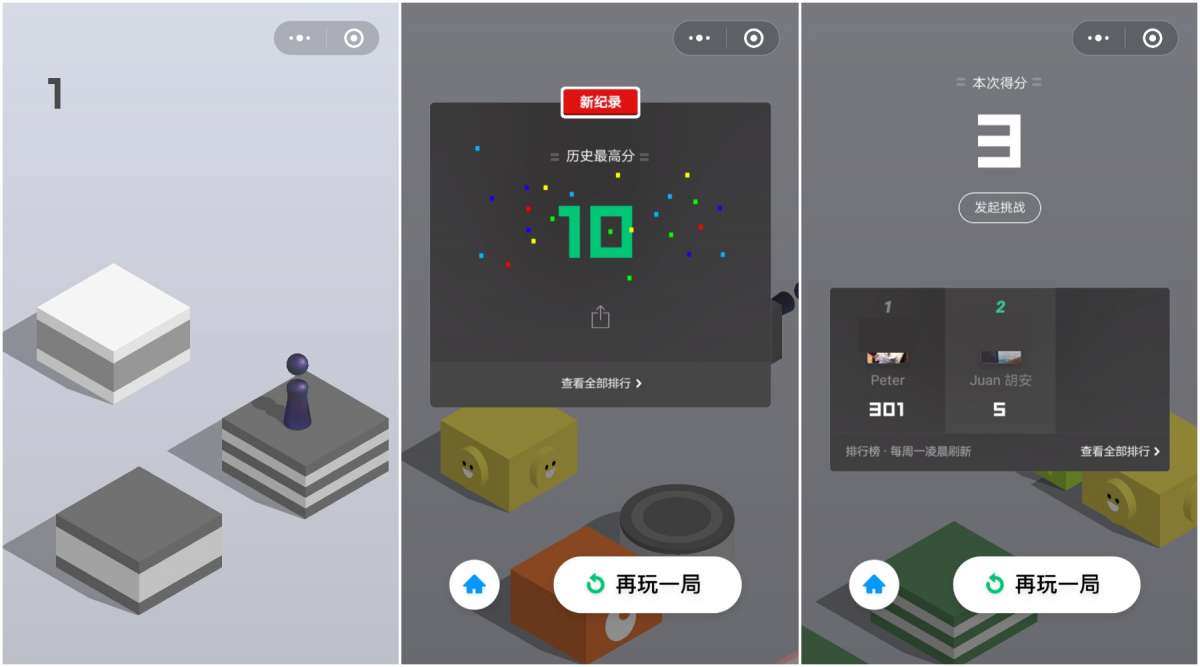 Lifestyle Mini Apps
From catching a train to split the bills there are thousands of mini programs that ease the routines of millions of people in China. Bike Sharing mini apps are one of the most popular options among urban and not so urban users. If you want to know more about this phenomenon check our article about the Rise and fall of bike sharing in China. Mobike has their own mini program that allows users to use their bikes without leaving WeChat.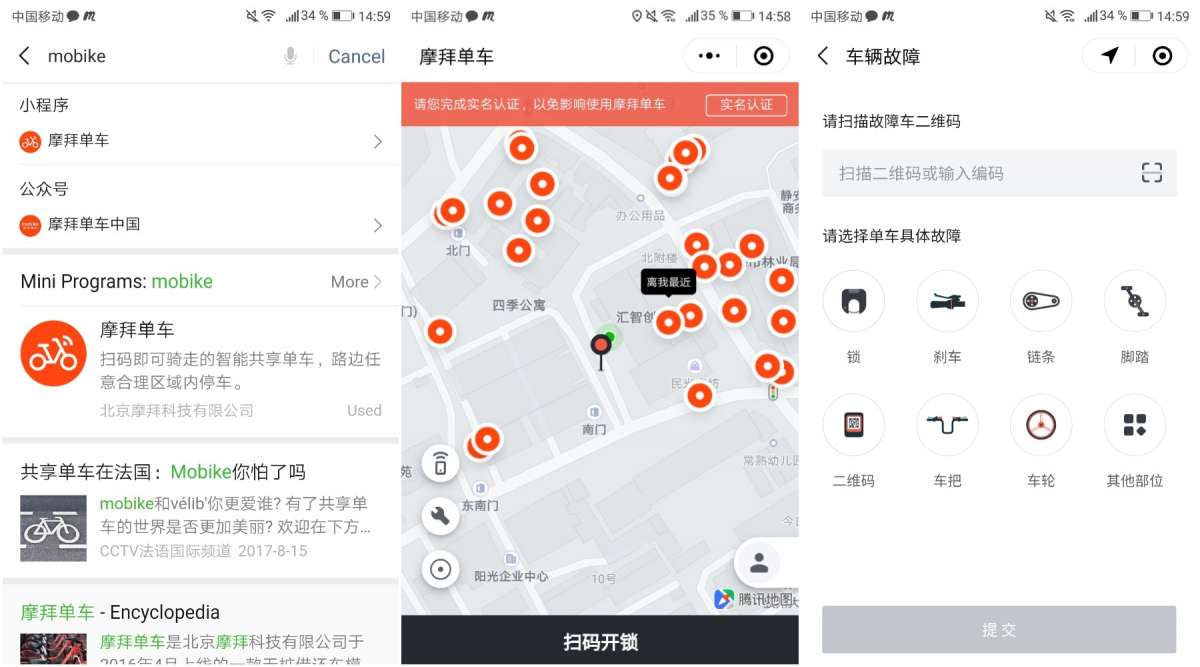 E-Commerce Mini Programs
The China's largest retailers are already on WeChat. Companies like JD, Alibaba or Taobao have a mini program version of their ecommerce platforms. One of the perks of WeChat E-commerce mini programs is the integration with WeChat Pay. This integration makes easier and faster the purchase process as the user does not have to log in between different platforms to complete the payment.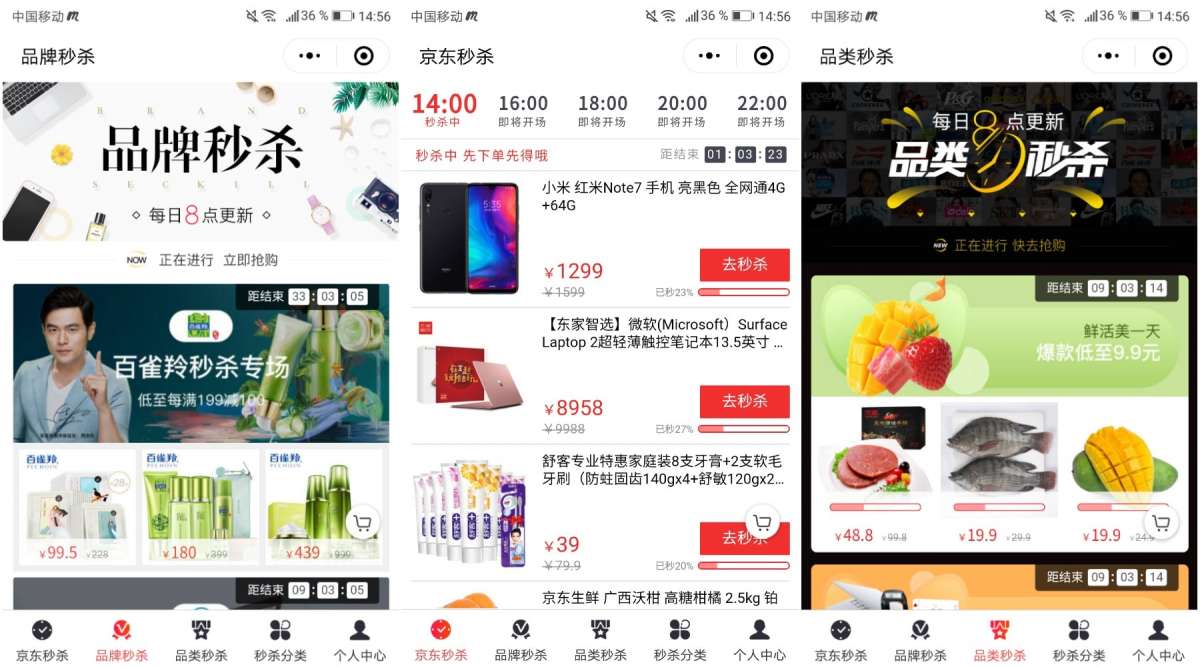 Where to find WeChat Mini Programs?
Mini Programs are not available in any kind of app store, so if you want to find one, you will have to search for it on WeChat, scan a QR code from a street advertisement, receive it within a WeChat group or from a friend, or find it linked to a WeChat Official Account.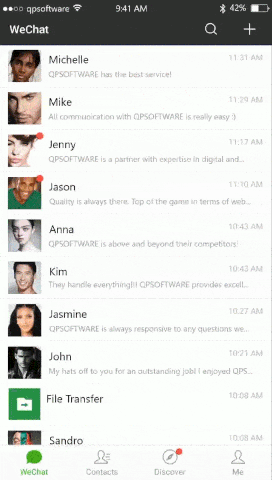 What Are The Advantages Of Mini Programs?
Mini Programs are very light, and there is no need to download them to your phone. You can access them anywhere, anytime, and if you no longer need or want one of your Mini Programs, all you have to do is delete it from your WeChat, by simply pressing and holding down on the Mini Program you wish to delete, which is as simple as deleting a message.
WeChat Mini Apps accessibility
Moreover, you can access all the Mini Programs you use and the ones you have pinned by simply going to your Chats page and sliding open a drop-down menu at top of the screen (see screenshot below).
The WeChat Mini Programs are on Tencent's servers, so their loading speed is swift and efficient.
As explained previously, there are few different ways to find these Mini Programs, one of which is to link them to a WeChat Official Account. A WeChat Official Account can be linked to several Mini Programs. You can also find them within a group Chat (you will be able to see all the Mini Programs that have been shared in your group). Finally, you can also find them by searching in the Search WeChat Search Engine.
Another way to share your Mini Programs is to forward them to one of your contacts or to a chat group. As you can see below, the layout/visual of the Mini Program is much more attractive than just a simple link.
How companies can benefit from WeChat Mini Programs?
From a marketing perspective, Mini Programs have a captive audience, and they work with every OS supporting WeChat. Indeed, in less than a year the time spent on WeChat Mini Programs went from 1.6 minutes per day to 9.8 minutes.
Another interesting point is that the biggest companies with a Mobile/Native APP also have a WeChat Mini Program. By combining both, they have a perfect match. For instance, 54.7% of JD.com Mini Program users come from Tier 3 or smaller cities, against only 43.7% of Mobile APP users. This means that users from second or third tier cities are more likely to use the company's Mini Program rather than the company's Mobile APP.
This data suggests that users in tier 3 or 4 cities gained access to the internet and WeChat later than users in tier 1 cities. It may also be because Mini Programs arrived later as well, meaning that users in tier 3 or 4 cities discovered all the technology (WeChat and Mini Programs) at more or less the same time, and favour the idea of using Mini Programs rather than the Native APP.
Do WeChat Mini Programs replace Apps?
To strengthen the previous point, 50% of the top WeChat Mini Programs in all industries also have an equivalent Mobile APP. This figure is even higher in e-commerce and lifestyle services, where more than 80% of the top 100 WeChat Mini Programs have a Native APP.
Another interesting fact is that users of WeChat Mini Programs are more likely to spend smaller amounts on WeChat Mini Programs (less than 1,000 RMB) than bigger amounts. For purchases higher than 1,000 RMB, users tend to use the Mobile APP instead.
Therefore, based on this information, it may be worthwhile for companies to focus on targeting Mini Program users in third-tier cities and lure them onto their Mini Programs with attractive and affordable products.
What Are The Limitations Of Mini Programs?
Here's what we've found so far:
The size of a Mini Program is only 10 MB (however the pictures, videos and sounds can be hosted on a server and are not included in this 10 MB size).
WeChat is quite restrictive on incentivized sharing. That's why incentivized sharing on WeChat Mini Games has been restricted. So sharing with your friends is the most common way to get new users
In addition, users and official accounts cannot share Mini Programs on their WeChat Moments, which is the WeChat user's news and social networking feed. The sharing function is limited to group and individual chats.
At the time of writing the original article, it was not possible to create games on WeChat Mini Programs. However, since April 2017 it has now been possible to do so. Within just the first 3 weeks, around 300 WeChat Mini Games were developed!
What Is The Difference Between Mini Programs And Official Accounts?
The main difference between Mini Programs and Official Accounts is that users subscribe to an official account to receive news and info from that company, meaning there is an ongoing relationship between an official account and its followers. Mini Programs do not foster this same relationship, as users can just scan a QR code on one single occasion in order to use the program.
WeChat Mini Program Vs WeChat Web App
Even before the WeChat-world was talking about Mini Programs, people were developing Web Apps using the WeChat API. WeChat Apps are not built using the WeChat framework and have less restrictions. In our article WeChat Mini Program Vs WeChat App we tell you the pros and cons of creating these kind of applications.

What Is The Difference Between Mini Programs And Mobile Apps?
As already mentioned, there is no need to download the Mini Programs to your phone, and you won't find them in any app store. There's also a difference in the development costs. The cost to develop a Mini Program is usually cheaper than developing a native app.
How to build a WeChat Mini Program?
WeChat Mini Program is a relatively new technology and needs to be handled as it is. A WeChat Mini Program developer needs to know the fundamentals of coding and use the required programming language (Javascript). Moreover, the Mini Program developers on WeChat must have a deep insight into the customer's audience too, which for the majority will be Chinese. In our article How to develop a WeChat Mini Program that rocks, you can find detailed info about how to success with your latest WeChat project.
How to install a WeChat Mini Program?
Another advantage of WeChat Mini Programs is that you don't need any more to go through the traditional app installation process. You can find a Mini Program by navigating within your WeChat account (using the search function within WeChat or you receive the Mini Program from your friends within your conversation) or scanning a QR code. The process of having a mini program takes only a few seconds as they use your WeChat ID as logging information, so you don't need to create separated accounts.
How to delete a Wechat Mini Program?
If you don't want to use the previous Mini Programs you have been using, you can delete them. Just go to the "Discover" tab, select "Mini Programs". Find the Mini Program you wish to delete, swipe right on it, and tap "Delete".
What Does The Future Look Like For Mini Programs?
Mini Programs have the advantage of simplicity. They are cheap to develop, and easy to add and delete, but they are becoming more and more complex. Tencent's WeChat developers are making them more advanced, particularly for gaming and e-commerce purposes, making WeChat become even more dominant in this market. Mini Programs are starting to become a part of life for more and more developers and WeChat users, competing with traditional apps and acquiring customers from traditional app stores.
So, over two years after releasing the first Mini Program, we can see that they are rousing more and more interest, making them almost impossible for larger companies to ignore. Will things stay similar to how to are now? Nobody knows what the future holds but one thing is for sure: Tencent is working hard on marking this "trend" something permanent as Mini Programs are part of their long-term plan.
If you would like to know more about the China Marketing intelligence, please contact This email address is being protected from spambots. You need JavaScript enabled to view it. for more details.
(Source:https://qpsoftware.net/blog/wechat-mini-program-all-you-need-know)